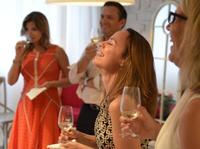 Sample regional French produce and learn the concept of "terroir" on this 2-hour wine and cheese pairing class in Paris. Taste four types of wine and one style of Champagne with your instructor, an experienced sommelier. Try five different types of cheese and gain insight into their characteristics. Hear the origins of the wine and cheese tasted during your class, and learn how to pair them for the best flavor combinations. Practice sabering a Champagne bottle and enjoy personal attention from your guide on this small-group tour, limited to 16 people.
Meet your instructor — an experienced sommelier — at your cookery school in central Paris to begin your wine and cheese pairing class. Designed with wine enthusiasts in mind, this 2-hour class is ideal for visitors to Paris keen to learn how fine French wine and cheese complement each other.
During your class, taste four wines from different regions across France as well as one Champagne. Listen as your guide explains the five major French cheese families, then sample them to experience their subtleties of flavor for yourself. Hear the geographical and historical origins of the wine and cheese you're tasting and gain insight into the key concept of "terroir" in French produce.
Enjoy five wine and cheese pairings accompanied by a selection of sliced ham, bread and olives, and savor the wine and cheese as they work together to create complex aromas and flavors. Under guidance from your sommelier, bring your senses of smell and taste to the fore and learn the skill of blind wine tasting.
Take a knife and master the art of sabering a Champagne bottle to open it, then share a glass with your classmates. At the end of your 2-hour class you will receive Drop-Stop for the perfect pour every time and the school will send you the list of wine and cheese matches you will have sampled electronically.