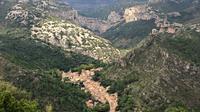 This wine tour takes you to the heart of the new rising star of the Languedoc wine area: Terrasses du Larzac. Along the day you will visit 3 wineries and discover a landscape dotted with vineyards and picturesque villages scattered on either side of the river Herault. You will also enjoy a delicious lunch in the quaint village of Saint-Guilhem –Le-Désert, a jewel of medieval architecture.
Meet your guide at 9am on the Esplanade de l'Europe in Montpellier and take off for a wonderful day tour in one of the most interesting wine areas of the Languedoc. After a 45 minute drive you will arrive at the first winery where you will visit the cellar and learn how to taste a wine with a short wine tasting workshop before tasting a variety of wines. You will then head to the second winery, different in size and style and learn everything about the wines of the largest wine area in France.
When it's time for lunch head to the beautiful village of Saint-Guilhem-le-désert and stop for pictures at the famous devil's bridge to admire the view on the amazing Herault gorges. You will have some free time to stroll through the medieval streets and visit the roman abbey of this charming village, then enjoy a delicious traditional French lunch on in restaurant on the main square.
After lunch you will drive in the minivan through the beautiful countryside and small villages to the third winery and end the day with a nice tasting. The return to Montpellier is planned around 4.30 pm.