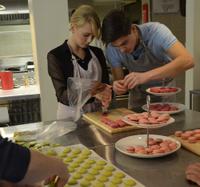 Master the art of making one of France's most delicate pastries on this 3-hour macaron-making class in Paris. With step-by-step guidance from a helpful instructor, choose from a range of vibrant colors and create your elegant meringue shells. Whisk up the soft buttercream filling then carefully pipe it in. Relax as your macarons slowly bake in the oven, then taste them with a cup of tea or coffee. Enjoy personal attention from the instructor on this small-group tour, limited to eight people.
Head to your cookery school in central Paris the afternoon, then meet your macaron-making instructor over a refreshing drink before beginning your class.
During your hands-on class, listen to step-by-step guidance from your instructor and master the delicate art of macaron making. Learn how to make the meringue shells in the colors of your choosing and master the art of piping in the buttercream filling.
When your macarons are ready, sample your creations with a cup of tea of coffee and listen as your host talks of the macaron's place in French culture and tradition. After three hours of baking and tasting, take your box of macarons and head outside to conclude your class.