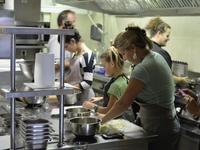 Discover traditional French cuisine and prepare your own 4-course lunch on this 4.5- or 6-hour cooking class in Paris. Begin with a visit to a food market in Paris' Latin Quarter (6-hour class only) and select your ingredients. Then, plan your menu and cook your meal with guidance from a professional instructor. Learn tips and tricks to improve your cooking before sitting down to enjoy your meal. Sample wine and cheese from across France, and enjoy personal attention from the instructor on this small-group tour, limited to eleven people.
Meet your instructor at a cookery school in central Paris to begin your class. If you've opted for the 6-hour class, start with a croissant and a cup of coffee or tea before heading to an open-air food market near Paris' Latin Quarter, where you'll pick up the ingredients for your meal with your instructor.
If you've selected the 4.5-hour class, make your way to the cookery school after your instructor has returned from the market. Begin by planning your 4-course lunch menu, which includes an appetizer, main, cheese and dessert course. Then, get started under the
watchful eye of your instructor. As you prepare your meal, pick up tips and gain insight into traditional French cooking techniques.
After two hours in the kitchen (and a glass of wine or two), head through to the dining table with your fellow cooks. Sit down to the delicious meal you've prepared and enjoy half a bottle of white or red wine. You'll also sample one French cheese and learn the fine art of pairing food with wine.
During your meal, listen as your host shares anecdotes and stories on French food and culture. Cuisine is a huge part of France's national identity and ties in with everything from history and geography to sociology. You will receive electronic copies of your recipes after you leave the class