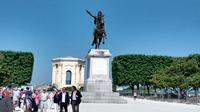 During this 2 hour guided tour, meet your guide and explore the old city center of Montpellier. This regional capital is still the Middle Ages a very important place for studying. The city of Montpellier owns the oldest University of Medicine in Europe which is still active today. Stroll through the small medieval streets of Montpellier and be surprised by the magnificent courtyard of the private mansions.
Meet your guide next to the fountain of the Three Graces, located on the main square of Montpellier called The Comedy Square, for a 2 hours guided tour through this beautiful city.
Here the visit starts with some historical facts about the city then the square and its evolution since its creation in the 18th century. Follow your guide through tiny but charming medieval streets of the city. Discover the lost remains of Middle Ages architecture still stuck in the beautiful private mansions of the 18th century when Montpellier was capital of the Languedoc province. Montpellier also owns the oldest University of Medicine in Europe that is still open to students. A special tour may also be adapted around the theme of the medical history in Montpellier.
As the city is built over a hill, you will need good shoes to walk in.