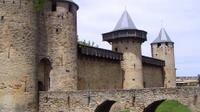 Enjoy and discover with a professional guide the main historical facts, particularly the Cathar Crusade, that has changed the military architecture. Stroll on old cobblestone streets and see beautiful views on the surrounding landscape.
This tour can be extended with the visit of the Count's castle.
To enjoy your tour, please come with comfortable shoes. For people having difficulties with walking, a special tour can be organized (but not suitable for people who are wheelchair confined)
Meet your guide at your hotel (if located near or in the cité of Carcassonne) or at the main gate and start your tour discovering the old legend of "Lady Carcas" who should have saved the cité in the 8th century. Then have a stroll between the 2 lines of city walls, seeing the oldest remains, such as Roman towers and walls. A beautiful view on the black mountain will probably make you feel like discovering the region!
Then enter the cité and discover the narrow streets to the outskirts of the Count's Castle. After a short stroll you will reach the St Nazaire Basilica, both Romanesque and Gothic in architecture, to see the beautiful stained glass widows of the 13th and 14th centuries.
After the tour, we advise you to stroll on your own and discover boutiques, cafés and restaurants.