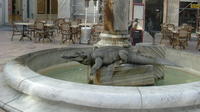 Nîmes is a very famous city of the Southern France. It is considered as a city where the Roman architecture is the best preserved in France. During the tour you can admire the old Roman amphitheatre that was the place where gladiators used to fight. The "square house" or Roman Temple is also a vestige from this brilliant past.
Nîmes is also known to be a place where Religion Wars that divided Protestants and Catholics took place.
Meet your guide at your hotel (if located near the city centre) or near the old Coliseum or Roman Amphitheatre (If you want to visit the Roman amphitheatre, please tell us, so we can make the reservations). Start the tour and follow your guide tell you how the city developed during the Roman Antiquity and how it became one of the most important Roman colonies in the region. Discover also why the symbol of the city is a crocodile and why the Old Roman temple over the Forum place is now called "the Square House". While you walk through the streets of Nîmes discover the Clock tower (Medieval Belfrey), a Romanesque house and the curious Cathedral which is a mix between Romanesque, Gothic and Baroque architectures. Your guide will also tell you about the religious wars that crossed the city. End the tour by visiting the Fountain Garden, cradle of the original city.