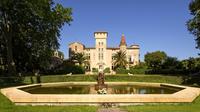 This wine tour brings you to discover the architectural and wine-related heritage of Montpellier. During the day you will visit and taste the wines of 4 different châteaux around Montpellier.
Meet your guide and 9am on the Esplanade de l'Europe in Montpellier and take off in an air-conditioned minivan for an unforgettable day tour.
Start the day with a visit of a castle and wine estate dating back from the 14th century, surrounded by vineyards and set on the highest ground of Grès de Montpellier. You will then head to a second Château, an 18th century house, still inhabited by the family today. You will admire the castle surroundings, including the wrought ironwork gate and, of course, tasting its exceptional range of wines.
Enjoy lunch at the excellent Château de Flaugergues restaurant where you will try their refined seasonal cuisine. After lunch, stroll through the beautiful gardens of this castle dating back to 17th century before tasting their excellent range of wines. You will then visit a more recent Château, settled in beautiful surroundings in the middle of vineyards and olive trees. You can admire a unique and original exhibition of painted oak barrels and end the day with a tasting of its exceptionnal range of wines.