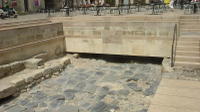 Discover and enjoy with a professional guide a walking tour through the historical city of Narbonne. Let's stroll through this old and major Roman city, explore its small squares and streets. At the corner of medieval streets discover a piece of old Roman road : the Via Domitia. Then be surprised by the beauty of the magnificent St Just-St Pasteur Cathedral, a jewel of Gothic art.
In the morning, enjoy the flavours of the local products and the regional gastronomy in the covered market.
Meet your local guide near the early 20th century covered market of Narbonne. Start the visit by visiting this place and smell the flavours of the local products and if you want even you can buy some of them. Then, cross the bridge over the Canal de la Robine that splits the city in two. Walking along the canal, you arrive to the historical city centre of Narbonne. Two thousand years of history are concentrated around the main square. There discover the Roman Antiquity when Narbonne used to be capital of Narbonensis Provincia. A piece of a very important Roman way, the Via Domitia is exhibited on the centre of the same square. There discover as well the impressive Archbishop of Narbonne Palaces, linked to the Cathedral thanks to the cloister. The cathedral is a magnificent jewel of Gothic architecture and still owns a beautiful retable from the 14th century. Walking near the canal discover the importance of water for this city since the beginning. After this, walk through the beautiful tiny streets of the city to pass by the forum square or in the other side of the city, you can admire a beautiful Renaissance window, then a Gallo-Roman necropolis in the St Paul Church . The tour ends up near the covered market, time to let you buy or discover the local flavours and tastes of southern French food.