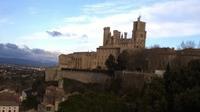 Meet your professional guide and then enjoy a walk through the tiny streets of Béziers exploring the city centre and let you tell the main historical facts. The magnificent cathedral of Béziers, a jewel of southern Gothic architecture offers you one of the best views over the city and the Orb river valley.
This tour can be extended to discover the site of the nine locks of Fonseranes, part of the Famous Canal du Midi.
To enjoy your tour, please come with comfortable shoes. For people having difficulties with walking, a special tour can be organized (can be adapted for people who are wheelchair confined)
Meet your guide at the statue of the Pierre Paul Riquet pathway and start your tour discovering this beautiful walk from the 19th century, one of the witnesses of Béziers Golden Age and prosperity, linked to the wine production. There, admire the beautiful Haussmanian architecture and the private mansions that made the fame of this place. Then have a stroll through the medieval or 19th century streets of Béziers and reach the forum square that used to be the centre of the Roman city. Then, you may discover the 14 th St Nazaire cathedral, a jewel of southern Gothic architecture. If you feel motivated and like challenges, climb the stairs of the bell tower to discover the splendid point of view over the city and the valley of Orb river.
After the tour, we advise you to stroll on your own and discover boutiques, cafés and restaurants.
You may also wish to drive to the nine locks of Fonseranes site. These locks are one of the most impressive constructions over the Canal du Midi, a UNESCO World Heritage site since, 1987. They are the only one over this 17th century canal to look like a staircase.