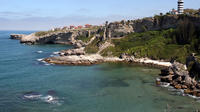 Discover mesmerizing Istanbul and explore beautiful Asian part of Turkey with its little resort towns, surrounded by waterfalls, rivers and beaches. Visit Şile, Ağva, Masukiye, Sapanca and Kartepe and spend 3 full days in Istanbul during this multi-day tour.
Day 1: Istanbul [no meals]
Meet and greet upon arrival at Ataturk Airport, transfer to hotel of chosen category. Free time for the rest of the day. Overnight in Istanbul.
Day 2: Sile – Agva [B;L]
Sile and Agva are located at the Asian side, renown for their beautiful nature. Şile is famous for its beaches, a 14th-century Genoese castle on an island and for Şile cloth, a crimped-looking, light, see-through cotton fabric, made on the Şile coast, sold in many shops in the town and sent to the bazaars of Istanbul. With a picturesque scenery, Ağva is one of the popular resorts of İstanbul. In addition to the 2.5 km (1.6 miles) beach there are many boarding houses and restaurants.
First, you will cross the bridge that connects the two sides of Istanbul and visit Goksu river where you will have lunch, followed by a boat tour. Then, see the magnificent Hidden Lake, settled among the mountains and the woods and visit the zoo in Sile. Return back to the hotel. Overnight in Istanbul.
Day 3: Istanbul [B]
Free day at your leisure. Optional day tours like Bosphorus dinner and show cruise or shopping at Grand Bazaar are highly recommended. Overnight in Istanbul.
Day 4: Istanbul [B]
Free day at your leisure. Optional day tours like Jurassic Land and Forum shopping mall tour or Miniature Park tour are highly recommended. Or you might as well spend your free day exploring the city independently. Overnight in Istanbul.
Day 5: Sapanca – Kartepe – Masukiye [B;L]
A day trip to Masukiye, Sapanca and Darica zoo from Istanbul is for those who seek a different experience. Get away from modern life to see the nature, hear the birds singing, walk in between the trees and have your lunch in a very special place. Located in Sakarya, Sapanca is considered as one of the most beautiful places in the Asian side of Turkey, thanks to its splendid landscapes and views, such as: Masukiye water falls, rivers, lakes and mountains. During the winter season, you can enjoy snow activities in Kartepe resort.
Enjoy your lunch, while contemplating the waterfall of Masukiye. Then, visit beautiful Sapanca Lake and spend some time on its shores. Take a trip to Darica, a unique zoo with 200 different kinds of animals and 250 kinds of plants. In total there are about 2000 species. There is also an aquarium and children's petting zoo. It is a big botanical park and one of the biggest zoos in Turkey. After approximately 11-hour tour you will return back to the hotel in Istanbul for overnight stay.
Day 6: Istanbul [B]
Enjoy a day in the city exploring on your own, your guide will have several suggestions of things to do should you need some inspiration. Overnight in Istanbul.
Day 7: Istanbul [B]
After breakfast at the hotel, you will be transferred to Istanbul Ataturk Airport according to your departure flight time.