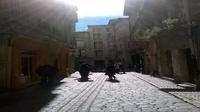 Walk through the cobblestones streets of Pézenas to discover this old medieval city, its charming house façades and the sumptuous courtyard of private mansions. Stroll through the city and discover the rests of medieval architecture. Not only known for its preserved Middle Ages architecture, Pézenas is also an Art and History city.
You may find, smell and even sometimes taste famous specialities as the "Petit Pâté of Pézenas" or some others local food from the region.
To walk on the cobblestone streets it is required to have good shoes. The tour can be adapted to people presenting difficulties with walking.
Meet your guide at the Molière statue.
Starting the tour by the city centre, you may discover the old streets of Pézenas. The atmosphere created by a very well preserved city centre is due to the fact the city was never modernized until the 18th century.
Pézenas kept very beautiful cobblestone streets leading you to the past. In the Middle Ages the town was known for being a very important fair and trading centre, attracting very wealthy merchants. Some courtyards of medieval private mansions are still opened to the public. Your guide will explain you how the important families used to live there. Famous for its Art and Craft activities, Pézenas will charm you with its small shops. There discover local specialities and hand craft objects made in the city (jewellery, glass blower etc…)
If you enjoy theatre you may also be enchanted to know that the famous French play writer Molière lived there for some years.